Since technology has advanced, Bluetooth headsets for motorcycle helmets have become essential. Whether for calling, taking calls, listening to music, or communicating with other riders, staying connected while riding is much simpler.
Two models are available in the Sena 50 Series: the 50S edition, which has a larger base-mounted Jog Dial, and the 50R, which is fashionable, low-profile, and has a compact footprint. Both are exquisitely finished with glass-look black inserts and burnished finish housings, and they both demonstrate Sena's dedication to continuing to push the envelope. The Sena Series may be your best option if you're looking for a wholly adjustable headset for different riding situations.
Thanks to the small, closely helmet-fitting 50R and the more oversized 50S using the multi-functional auxiliary-input base, there are numerous options for helmet fitment. Mesh 2.0 technology, in addition to standard Bluetooth, makes all communication channels available. Seamless smartphone integration completes a fantastic all-around package.
---
Sena 50S
To maintain a low profile and guarantee that it can withstand harsh conditions, the 50R can also attach to your helmet using a slide-in clamp. The 50S, which is still sleek, has a quick-release mechanism, unlike the 50R. The intercom can be removed to be charged, which is the main benefit of the 50S quick-release Clamp Kit. As a result, you may do so if you need to configure your intercom while stopping somewhere.
Both the 50S and 50R are equipped with Mesh 2.0 for cutting-edge technology and sound clarity, but the S differs from the R in this regard because it has three different types of microphones:
The boom microphone
The wired boom microphone
The wired microphone
The 50S is a fantastic option for half-helmet users thanks to the additional boom microphone's added versatility.
Another advantage for many is that the 50S's clamp kit has an AUX port for an MP3 player without Bluetooth. The 50S comes with a built-in 3.5 mm earbud port so you can use your earbuds for more than the included ones, as opposed to the 50R, a 10R Earbud Adapter with Spilt Cable Enabled. It can operate the Bluetooth intercom for 14 hours and the mesh intercom for 9 hours, respectively, thanks to the 50S's slightly larger battery than the 50R.
The 50S jog dial is practical for a gloved hand. But it also depends on the rider's physique, helmet, shoulder armor, motorcycle ergonomics, and riding position because, on occasion, the rider may unintentionally tap the jog dial with their shoulder, usually when checking to merge to the left. If your volume is turned up, it produces a quick beep; if your book is not turned on, it may rumble.
The 50S Features
Bluetooth 5 enabled
Mesh 2.0
Mesh Intercom with one-click connection and better audio quality
Newly designed HD Speakers enhance volume, bass, and clarity performance.
30% more quickly rapid charging
voice command access to a digital assistant
Using the built-in WiFi Adapter, automatically update the firmware
support for multiple-language voice commands
Four riders with Bluetooth intercom
Virtually limitless Open Mesh Intercom
24-rider group mesh intercom
---
Sena 50R
The 50R is designed for off-the-beaten-path journeys. The 50R remains incredibly clear even on the bumpiest courses, thanks to its rugged design and Mesh 2.0 equipment. The 50R packs an unbelievable amount of punch into its small frame. It is one of Sena's most discrete intercoms, with a small battery, stylish mounting options, and no aux port. The R has required 8 hours for Mesh intercom and 13 hours for video, despite the smaller battery size.
In contrast to the 50S, which has a weather-resistant quick-release clamp; more on that in a moment—the 50R can be directly attached to your helmet for maximum weather protection. The R comes with two different types of microphones:
The wired boom microphone
The wired microphone
You can use the 10R Earbud Adapter Split Cable in place of the built-in 3.5 mm earbud adapter on the 50R to listen to music through your earbuds rather than the speakers. This device is lighter, more streamlined, and better suited for fast rides thanks to less hardware and a durable design.
The 50R Features
The One Click-to-Connect method's simplicity
Mesh 2.0: reliable robustness
Mesh Intercom provides high-quality audio.
Bluetooth 5 is present.
HD Speakers that Have Been Redesigned to Perform Better in Volume, Bass, and Clarity
A stylish, three-button interface that is suitable for gloves
Voice Command is understood in eight different languages.
WiFi adapter that is already included charges and updates its firmware automatically.
Open Mesh's multi-channel protocol enables users to switch between 9 communication channels.
---
50S vs 50R: A Quick Comparison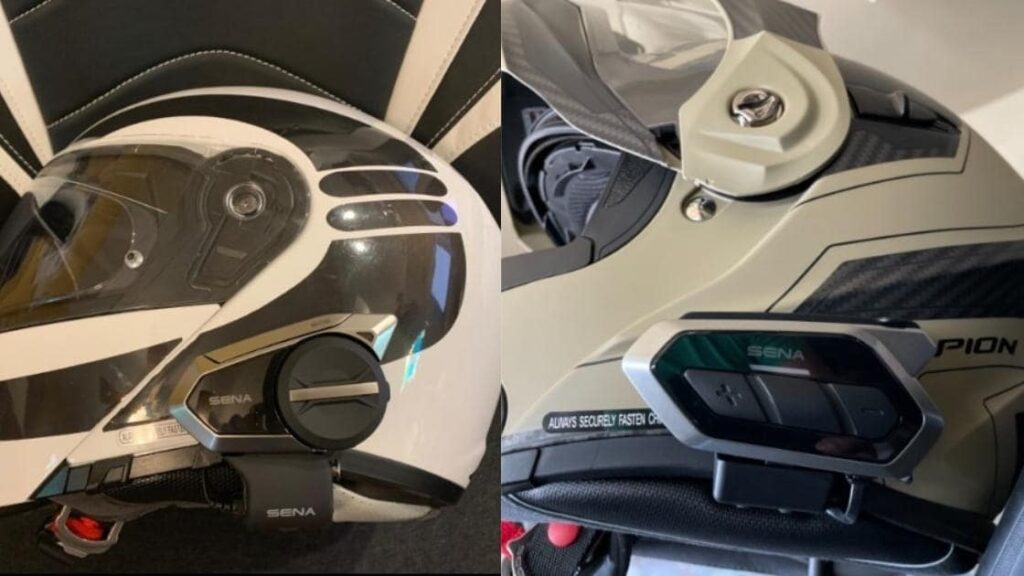 Between the Sena 50S and 50R, there are numerous differences.
The 50R is a low-profile device with three buttons, whereas the 50S has a large, glove-friendly Jog Dial.
The 50R is intended to be compact and low-profile, more suited to adventure riders who ride off-road and are adept in all weather conditions.
The R's battery range is less than the S's due to its smaller battery, but only by about 1 hour.
The S has a universal clamp mounting system, whereas the R is designed to be mounted directly to the helmet with adhesive pads.
You can connect your earbuds to the R unit instead of using the speakers because it has a 10R Earbud Adapter Spilt Cable Enabled.
On the other hand, the S mount has an integrated AUX input and a 3.5 mm jack. It allows you to use an MP3 player or SatNav that isn't Bluetooth enabled by connecting via the AUX input and using your earbuds with the headphone jack.
A second Boom microphone is included with the 50S.
The 50R is low profile, with less hardware for more rugged riding and better weather resistance. The 50S unit has all the bells and whistles but is a little bulkier. These devices have the same Mesh 2.0 connectivity specs and Bluetooth 5.0. They also both come with new HD speakers.
Mesh 2.0: What is it?
The updated Sena Mesh 2.0 firmware, which replaces the Mesh 1.0 firmware used on the 30K and offers more dependable connectivity, improved optimization, and improved communication, is used by both systems.
The 50S and 50R now offer three different communication modes with Mesh 2.0. The first is the standard Bluetooth system, which has a lower range but better battery life. The second is Group Mesh Intercom, which allows up to 24 people to participate in a private conversation. While the capacity for group mesh is typically the same as Bluetooth, it is much higher when there are more than six riders.
A multi-channel Open Mesh Intercom is also available on the Mesh 2.0 network, allowing you to communicate with anyone currently connected. If you want to change the conservation, you can also choose from nine different Open Mesh frequencies.
What's in the Box, Exactly?
1. Sena Headset Module
2. HD Speakers
3. Universe Base with an Adapter Plate for a Clamp
4. Wired Boom Microphone
5. Wired Microphone
6. An adhesive adapter plate.
7. Rubber Pads
8. Replacement speaker pad set
9. Allen Key
10. Hook and loop fasteners for speakers and microphones
11. A USB Type-C power and data cable
12. Speaker Port Cover
Price-Is It Worth It?
Sena's flagship products, the 50S, and 50R, are loaded with the newest technology. Considering the additional benefits of the 50S, the price difference between the two is negligible.
The 50S's strongest suit is group riding, so Mesh 2.0 technology is worth the money if you frequently do it. However, if you are primarily a solo rider who enjoys listening to music and occasionally linking overkill for your partner, the 50S may be unnecessary for your requirements.
---
FAQs
1. Which Sena 50R or 50S is superior?
The 50S battery offers an hour more talk time than the 50R's smaller, more svelte battery. The 50S has the same sound clarity as the stylish 50R and is designed for convenience.
2. How long does the Sena's recharge take?
You can check the battery level when the headset is powered on in two different ways. The red LED flashes quickly when the headset is powered to indicate the battery level. The total charge takes about 2.5 hours.
3. Can music be shared on the Sena 50S?
While having a two-way intercom conversation, you can start sharing music with an intercom friend using Bluetooth stereo musing.
---
Bottom Line
The Sena 50S and Sena 50R represent a change for Sena. We now have HD speakers and a more robust Mesh network, but some differences remain. Though these differences are minor, they will mean that different systems will appeal to other people depending on how they like interacting with their design, their mounting requirements, and whether or not they want that extra battery.
The 50S battery provides an extra hour of talk time instead of the 50R's smaller, more svelte battery. The newest Connect Mesh 2.0 intercom, HD speakers, quick charging, voice-activated digital assistant access, and nine-channel operation are all features shared by both devices, which also support Bluetooth.
If you want the convenience of a quick-release clamp kit with a top-of-the-line intercom for touring, go with the 50S. A discrete intercom with the durability to withstand the elements in any circumstance? The 50R, on the other hand, won't let you down.