In 1978, Preben Jacobsen combined his electronics know-how and carpentry skills to create Jamo. Two years prior, in 1966, he had discovered a passion for building loudspeakers in his henhouse that sparked the idea of creating something more. At this point, Julius Mortensen, his brother-in-law, joined him; together, they created the "Jamo" brand.
On the other hand is Klipsch: established in 1946 with an unwavering commitment to high-quality audio products – from speakers ranging from low-budget prices to higher-end models boasting impressive features. But it doesn't stop there! The trusted brand also manufactures every type of audiophile need imaginable — perfect for any sound enthusiast's setup.
---
Jamo and Klipsch Brand: Quick Comparisons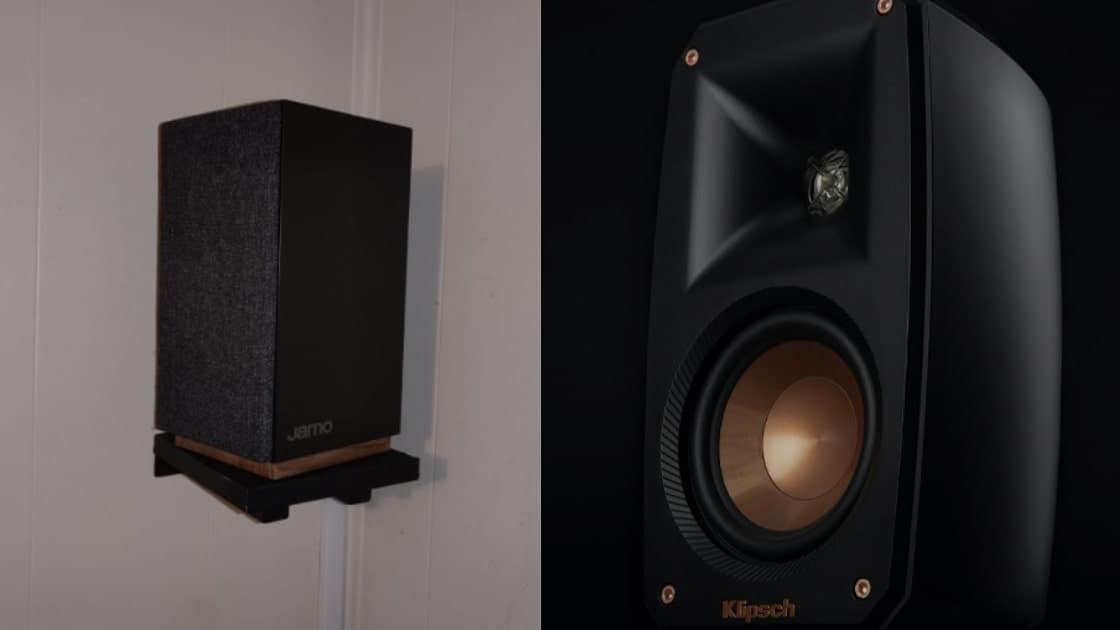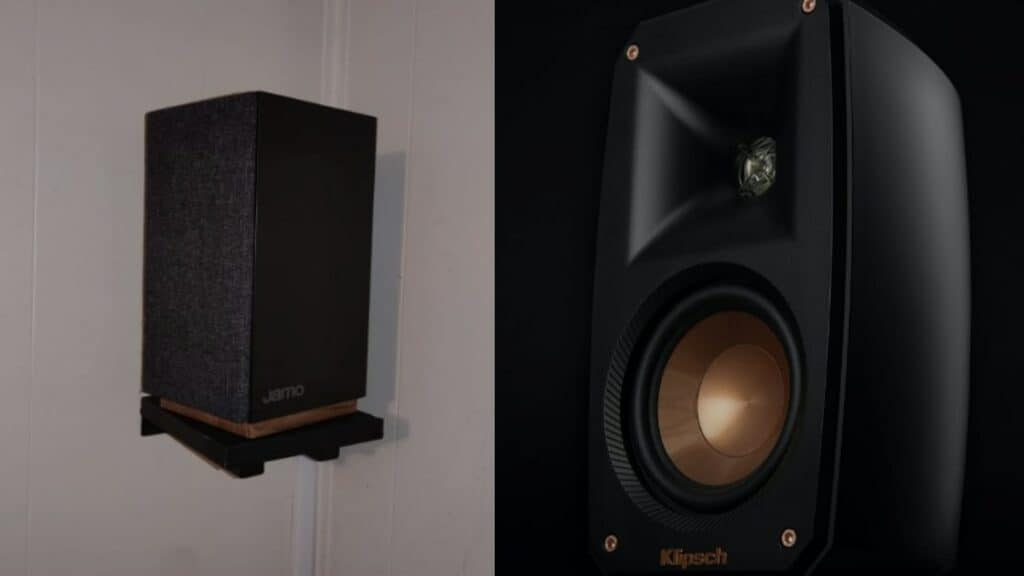 Regarding loudspeakers and sound systems, two of the most popular brands are Jamo and Klipsch. Both companies make high-quality products that deliver excellent sound quality. So what sets them apart? Let's take a look at the unique features of each company to help you decide which is right for you.
Jamo is a Danish audio brand known for its superior sound quality and modern design. Its loudspeakers are built to deliver accurate sound reproduction regardless of the volume level. They also feature advanced technologies that help reduce distortion and make music sound more natural.
Klipsch is an American brand that is renowned for its patented horn-loaded technology. This technology produces an expansive soundstage with excellent dynamic range and clarity. Klipsch speakers also feature advanced digital amplifiers and drivers that deliver high power at low volumes. So you can enjoy your music without having to crank up the volume. Klipsch speakers come in various sizes and styles, so you can find something to fit your home audio system perfectly.
Which is Superior?
That's a difficult question to answer as there are many factors involved. In general, if you want a more natural sound with dynamic range and clarity, then Klipsch is the way to go. Jamo might be your best option if you're looking for sizes, styles, and materials at an affordable price. Ultimately, the best choice is one that gives you the sound you're looking for.
Regardless of your brand of speakers, consider their technical specifications, such as wattage and frequency response. It will help you find the right speakers that will suit your needs.
---
Jamo Speakers
Performance and Design
They use cutting-edge technologies such as Waveguide technology, which increases the accuracy of sound reproduction. Additionally, Jamo speakers feature unique design elements that enhance their sonic appeal. These speakers have frequency response and high wattage, making them suitable for music playback and home theatre use.
The cabinets are made from durable materials such as MDF, which helps to dampen vibrations that can distort the sound. The speakers also feature a sleek design with curved edges and striking finishes like brushed aluminium and black gloss. Jamo's high-end speakers have advanced features such as integrated amplifiers for improved power handling capabilities. These speakers have built-in crossovers that allow for precise sound reproduction. They also feature top-of-the-line drivers, including a woofer and tweeter combination to ensure the best sound quality. The contemporary design allows the speakers to blend in with any room decor.
Sound
The Jamo, high-end speaker series, is designed to provide an immersive audio experience that can easily be customised to fit any listening environment. The speakers come with adjustable feet, which allow easy placement and adjustment in any room. Additionally, the built-in amplifiers provide superior sound quality, even at high volumes. With these features and more, Jamo's high-end speakers give you an incredible audio experience.
The speakers also feature advanced features, such as room correction and sound optimisation. This technology helps improve the excellent quality of the audio by automatically compensating for any acoustical issues in a given environment. Additionally, users can customise their listening experience through adjustable settings, allowing them to tailor the sound to their liking.
Quality
Jamo's speakers are designed with the highest quality components. The drivers feature a flat diaphragm to provide an accurate response. But the cabinets are made from solid wood for natural resonance and durability. The included subwoofer brings users deeply, rich tones rarely found in speakers of this size. Additionally, it had wall mounting brackets making it easy to mount the speakers on any wall.
Style
Jamo's speakers come in different sizes and styles to suit any home. The iconic designs feature clean lines, bold colours, and modern accents, making them a stylish addition to any space. From the sleek floor-standing towers to the versatile bookshelf speakers, there's something for every taste.
Jamo's speakers are designed to provide an immersive listening experience. Whether it's movies or music, each speaker is engineered with special care to ensure a rich, dynamic sound. Its speakers also feature TrueSpace technology, which uses "virtual reality" to provide an immersive surround-sound experience.
Connectivity
The high-end speakers also offer an array of connectivity options. They come with inputs, including analogue and digital connections, making them easy to connect to any device. Jamo's high-end speakers are compatible with Bluetooth, Wi-Fi, and AirPlay technologies. It allows users to stream audio wirelessly from their favourite sources.
Jamo's wireless solutions allow you to connect your speakers directly to your Wi-Fi network. It will enable you to stream music and access your digital library without extra cables. Additionally, our speakers feature Bluetooth connectivity, so you can easily pair them with compatible devices like smartphones and tablets.
Pros
Jamo's speakers provide multiple options for connecting, including Wi-Fi and Bluetooth. It makes it convenient to use with a variety of devices.
The speakers feature TrueSpace technology, which makes it possible to enjoy a surround-sound experience without additional speakers.
Cons
Jamo's speakers can be expensive, and their more advanced models may require an investment to get the best performance.
Installation can be complicated, as the speakers require proper setup to get the best sound quality.
The speakers may not be suitable for larger rooms, as they are designed primarily for smaller spaces.
---
Klipsch Speakers
Performance
Klipsch speakers provide superior sound reproduction using the latest acoustic technologies and materials. Each model is designed with high-efficiency drivers that provide a dynamic audio experience. Their speakers also feature patented horn design technology, allowing for more efficient bass performance and clarity.
The speakers are built to last, with heavy-duty construction materials like durable aluminium frames and robust grilles that can withstand long periods of use. Their drivers also feature proprietary weather-resistant coating to reduce corrosion and protect against the elements.
Sound
Speakers are designed to provide a rich sound with enhanced bass performance. Their horn-loaded design allows higher efficiency, producing louder and more accurate sounds than traditional designs. Additionally, Klipsch uses proprietary digital signal processing technology to create an immersive listening experience with detailed clarity and accuracy.
Quality
Klipsch speakers are built to last and feature high-quality components. They use premium materials like stainless steel and aluminium to ensure durability, while their members are precision-machined for a precise fit. Klipsch speakers also feature gold-plated connectors for improved signal quality and corrosion resistance.
Style
They come in different styles, from slim wall-mounted models to full-size floor-standing systems. It also offers a range of coloured finishes and limited edition designs for those who want something unique.
Connectivity
Their speakers are equipped with the latest in connectivity technology. Many models feature Bluetooth, WI-Fi, and multi-room capabilities for convenient streaming from a range of devices. Some also offer multiple audio inputs to connect various sources simultaneously.
Pros
Klipsch speakers are known for their superior sound quality. The company's patented technologies, such as the horn-loaded tweeter and Tractrix port, ensure that you get accurate, dynamic audio with a wide frequency range.
Klipsch speakers come in different sizes and styles, so there is something to suit any room or decor.
Many models have advanced features such as wireless streaming, multi-room capabilities, and multiple audio inputs.
Cons
Klipsch speakers are generally more expensive than other brands.
Some models lack certain features available on competing products, such as voice control or built-in Alexa integration.
Their speakers are not as well known outside the audio enthusiast community, so they may not be the best choice for those who want a more mainstream product.
---
Who Delivered the Best Performance as a Speaker?
Klipsch and Jamo are well-regarded in the audio world, and their speakers have dedicated fans. Ultimately, it depends on individual preference when choosing between them. Jamo has a reputation for producing more balanced, nuanced sound that is well-suited for critical listening. When selecting a speaker system, you must consider which sound characteristics you prefer and other factors like design and connectivity technology. Ultimately, the choice that best satisfies your needs and preferences will win out.
Klipsch is known for its lively, exciting audio quality with bass and treble frequencies. Jamo's sound is more subtle and refined, emphasising mid-range sounds for a more natural listening experience.
Conclusion
Jamo and Klipsch are two well-known producers of high-end speakers. Each has distinct qualities and is significant in its own right. About both its features and price, Jamo is a good speaker. It demonstrates great value due to its significance and excellent sound quality. Klipsch, however, is a different renowned manufacturer of high-end speakers. Their speakers are famous for their superb build quality, longevity, and fantastic sound. It is ultimately up to you which option you want because they are both excellent in their own right.