The present epidemic has significantly altered how most office employees and students learn. If you need to attend many meetings for work or are seeking a better online learning experience, go no further than the Jabra speakerphones, which offer a far better meeting experience. We're bringing you two unique products today that will transform your business and educational experiences, and we'll let you decide which one is best for you. It is the Jabra Speak 710 vs 750.
Jabra 750 Vs Jabra 750: Quick Difference
Speaker
| | | |
| --- | --- | --- |
| | Jabra 750 | Jabra 710 |
| Frequency Response | 150 Hz to 20 kHz | – |
| Power Output | 10 W | 10 W(Peak) |
| Signal-to-Noise Ratio | 70 dB | 70 dB |
Microphone
| | | |
| --- | --- | --- |
| Frequency Response | Not specified | – |
| Number of Voice Mics | Not specified | |
| Pickup Pattern | Omnidirectional | Omnidirectional |
| Microphone Coverage | 360 degree | – |
| Beamforming Support | No | – |
Technology
| | | |
| --- | --- | --- |
| Duplex Mode | Echo cancellation, Full Duplex (FDX) | – |
| Active Noise Cancellation | Yes | – |
| Frequency Mode | Not specified | – |
Connectivity
| | | |
| --- | --- | --- |
| USB I/O | 1 x USB-A 2.0 (Male) | 1 x Micro-USB 1 x USB-A 2.0 |
| Ethernet I/O | None | – |
| Audio I/O | None | – |
| Telephone I/O | None | – |
| Wireless Technology | Bluetooth 4.2 | Bluetooth 4.2 |
| Supported Bluetooth Profiles | HSP 1.2 HFP 1.6 A2DP 1.2 AVRCP 1.5HSP 1.2 | HFP 1.6 A2DP 1.2 AVRCP 1.5 |
| NFC | No | – |
| Supported Communications | Alcatel-Lucent, Avaya, Cisco, Microsoft, Unified Communication, Unify | Alcatel-Lucent, Avaya, Cisco, Citrix, Mitel, Skype, Unify |
| WLAN Mode | None | Not Applicable |
| Wireless Range | 98.4' / 30m | 98′ / 30 m |
| Touchscreen | Not Applicable | None |
| OS Compatibility | Not Specified | – |
Jabra Speak 710: Review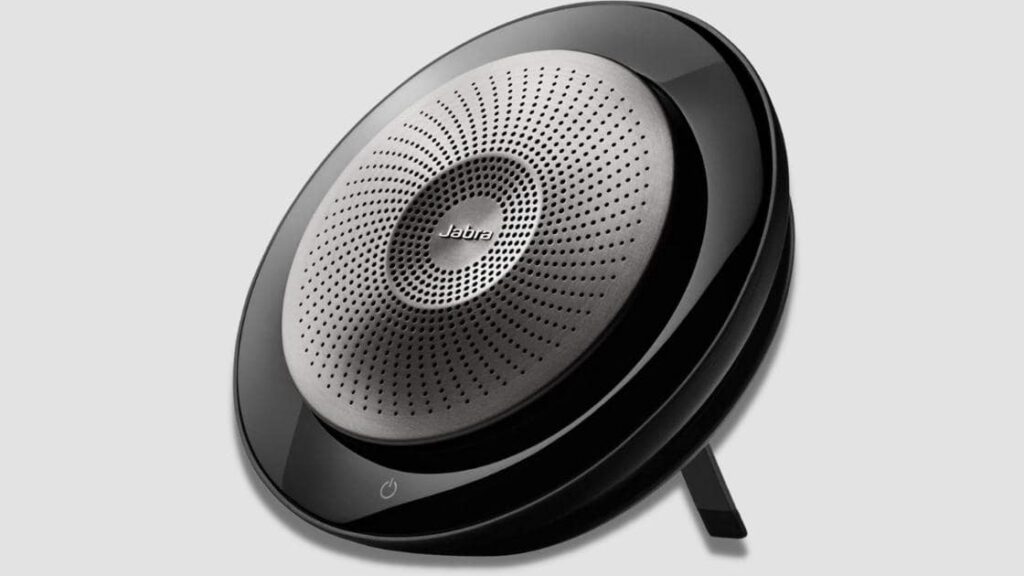 Design
Jabra 710 features a circular form when seen from the top down. There are touch buttons all around an aluminium grill shaped like a spiral on the top. Thus there are no fixed inputs. In addition to the power switch, the buttons' lights are on when pressed and go out when not in use. The speakerphone's built-in USB cord, which connects it to your PC, is located at the base of the grille. A built-in table support and the Jabra link 370 Bluetooth adaptor are also located on the base side.
Connections
There are three methods to connect the Jabra:
USB cord
The built-in Power cord at the speakerphone's base may use to connect it to your PC. The speakerphone may also be charged using the same USB wire.
Bluetooth adaptor for the Jabra 370 connect.
The speakerphone is ready when you insert the adapter into any USB port on your computer.
Bluetooth
Use the Bluetooth touch key on the 710 to switch it on, then switch on Bluetooth on your phone and choose the Jabra 710 to join.
What to do
There are ten touch controls on the Jabra 710's top part. The buttons include Bluetooth, mute, battery status, stop, end/reject, reset, call, internet, volume up, and take a break. They are all self-explanatory.
Microphone and sound
You won't have trouble hearing your friends or coworkers because of the 710's incredible sound quality. The microphones, which are omnidirectional and so take up voices from all sides, are the same. The 710 may be utilized as a speaker, and its music is crystal-clear and sharp when it does so.
Charge and battery
When connected to any USB charging device, the 710 is charged through the USB cord at the base. It will take three hours to charge. But it can operate for up to 15 straight hours when ultimately charged.
Added characteristics
Able to serve as a speaker for music.
It can be connected to another 710 speakerphones to offer a significantly improved experience for conferencing and audio listening.
---
Jabra 750: Review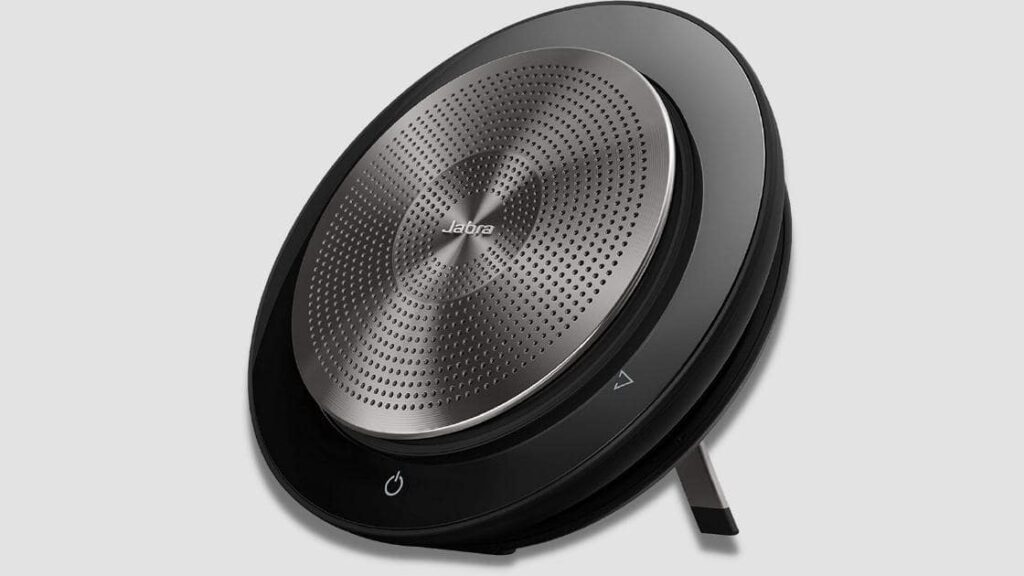 Design
A spherical shape with touch buttons arranged around it and an aluminium grille covering the top. When pressed, the buttons are lighted; when not, they are dark. The USB cable is under the top side, while the Jabra 370 Bluetooth converter and built-in table stand are under the bottom.
Adapters USB cable
The 750 will instantly connect to your PC when you plug in the included USB connection, enabling you to simultaneously use it as an outside speaker and telephone.
Bluetooth device
The Jabra 750 is ready for use once the Jabra 370 Bluetooth converter is plugged into any USB port on your PC.
Bluetooth
Keeping the Bluetooth button down for two seconds and choosing the 750 from the device's Bluetooth menu will turn on the Bluetooth.
What to do
Similar to the 710, the 750's buttons are intuitive to operate and identify. They include the following: mute, battery level, volume turned up, innovative click, end call, energy on/off, accept the call, connect, volume down, and Bluetooth.
Microphone and sound
Its audio is excellent and crystal clear when utilized as a speakerphone or an outside music speaker. Similar to the 710, the bidirectional microphone on top can pick up voices in all directions. Additionally, you and the individual you speak with will hear the sound quite clearly.
Charge and battery
The 750 may be fully charged in roughly 3 hours when connected to any USB charging device using the inbuilt USB cord. You will then receive a 15-hour fee.
Added characteristics
The capability of using it as a speaker for audio
For a better experience, it may be connected to another Jabra 750 speakerphone module.
---
Comparison of the Jabra Speak 710 and 750
The Jabra 710 and 750 are essentially the same items. With their circular shapes and the way the individual USB cables, Bluetooth adapters, and integrated table stands are housed, both have virtually the same overall design. Both support a maximum of six participants, and the audio and microphone quality are nearly comparable. The batteries and charging times are identical; both can be ultimately charged in 3 hours and have a 15-hour runtime.
The most noticeable differences are the Bluetooth range, weight, and marginally improved noise reduction of background noises. The 710's reach is significantly greater than the 750s, which only has 33 feet. The 710's range is over 100 feet.
---
Conclusion
As already said, the Jabra 710 and 750 operate and look similar. However, the Jabra 710 gets the prize thanks to the far greater Bluetooth range, considerably more appropriate weight, additional certifications from meeting programmers, and more robust noise cancellation. It is unquestionably our pick for you.